Sarah is an occupational therapist, homeschool parent, and founder of Homeschool OT Therapy Services based in Pennsylvania.
In 2017, my family began homeschooling.  Coming from a long line of educators, most in my family were shocked.  I even received letters of concern from aunts and grandparents.  However, my 11 year old son, Kaleb, is neurodivergent. Since he has a unique way of thinking, I knew I also needed to uniquely think about education. Our early homeschooling days were spent propelling scooter boards to pick up small wooden letters as he learned to read, memorizing some simple facts in history as he jumped on a trampoline, and reading aloud books on any and every topic while he was wrapped in blankets to understand and organize all of the sensory information bombarding his body. Being an occupational therapist helped me to continuously evaluate my son's different learning needs and identify activities to help him build skills.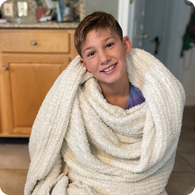 However, preparing him and my two other children for a future outside of our home required me to intentionally begin to teach each of my children to evaluate and understand their unique learning styles. Through this self-evaluation, they learned the most productive times of their day and strategies to help themselves regulate to focus on harder tasks. And now, they are beginning to advocate for their own learning needs.  The Zones of Regulation has been a vital tool in this journey because it spurs conversation of how we are feeling and how to manage our bodies. These conversations and self-regulation strategies are helpful and easy to implement at home whether your children are learning in a traditional school or homeschool setting.
HERE ARE SUGGESTIONS FOR ANY FAMILY TO TRY TO INTEGRATE THE ZONES OF REGULATION INTO YOUR HOME:
1. Build Zones Check-ins into predictable times in the day.
​We talk about our Zones while preparing meals, before sitting at the table.  For example, before breakfast, my 14- year- old daughter typically reports she is in the Blue Zone.  She needs stimulation, especially movement and natural lighting to regulate her Zone.  Since we talk about how she's feeling prior to breakfast, she can proactively get the stimulation she needs by taking the dog outside for a few minutes before we begin our meal.
2. Use Zones language  before tasks that require attention.
Most of the day, our three children have freedom to move around.  I read aloud as they play Legos, do puzzles, or even paint.  When they write, they switch positions; sometimes laying on their bellies, sometimes sitting in a chair, sometimes standing to write on a bathroom mirror, or sometimes writing on an easel outside.  They move positions and environments to best suit their needs.  Occasionally, there are tasks where they need to sit; these demands increase as they move up grades.  Annabelle, now a freshman, sits for the majority of her day.  Since they are familiar with The Zones program, they label their zones before seated tasks and list strategies that will help them to focus in their Zone for the remainder of the task.  Kaleb, who requires movement to organize his body in the Green Zone, often kicks a TheraBand around the legs of a chair, wraps himself in a blanket, or places himself in small tight spaces when he has seated tasks.  He knows these strategies because we have built the language and practices into our day.
3. Use fun visual aids.
Rhys, our youngest son, age 7, has been known to jump to the Yellow or even Red Zone when he rides in the car for longer than 15 to 20 minutes. The car can be hot and loud.  In addition, there is a lot of visual stimulation of trees, cars, road signs, and people moving by at a quick speed. And, of course, we don't have the ability to move to help organize the stimulation. Asking him about his Zone or providing verbal strategies doesn't help when he is already in the Yellow Zone. Our solution is easy: since he loves Legos, we keep a few minifigures in the cup holders of our car.  Each minifigure has a blue, green, yellow, and red piece on its head.  These give him something to play with but also help him remember to notice how he's regulating. Recently, he has asked for gum and water bottles with straws immediately after he is handed a Lego figure. He understands chewing is "heavy work" for his jaw so it helps him organize his body and regulate his Yellow Zone feeling.
4. Don't be afraid to be a little silly.
Remember my daughter who needs movement and stimulation to energize her Blue Zone?  Since she's a teenager, talking about The Zones is somewhat challenging. So, when I'm noticing sluggish movement or daydreaming, she is much more receptive if I start singing "Blue Moon" or "Blue Suede Shoes" rather than repeatedly asking her about her Zone.  Yes, my songs are often followed with an eye roll, but my singing brings her attention to her Zone and prompts her to use her coping skills without the nagging.  Sometimes, the auditory stimulation of my awful singing voice is enough to help her check-in with her Zone.
Our homeschool has evolved through the years as each child has grown and matured.  Propelling on a scooter board has turned into reading books.  Memorizing facts has turned into writing essays.  My role as an occupational therapist has even changed to consult and educate other homeschooling families on ways to meet their children's individual needs through HomeschoolOT.  However, there are still many hours spent reading aloud and jumping on a trampoline. Because my children are more aware of their own sensory and learning needs, they are becoming experts and advocates for themselves. My hope for my children and other families I meet through HomeschoolOT is that self-awareness can lead to self-advocacy throughout their education and into adult life.  The Zones of Regulation naturally used throughout the day is a great first step.
ABOUT SARAH
Sarah Collins, MSOT, OTR/L is an occupational therapist with a background in both pediatrics and home health, and a homeschooling parent. Sarah was first introduced to homeschooling in 2016 while working as an OT in a client's home, and was amazed at the learning atmosphere and opportunities within the home. Now as an OT homeschooling her own family, she noticed that parents, though experts on their own children, were invariably asking the same questions and needed resources. As a result, HomeschoolOT was established. Sarah now provides individualized recommendations and resources to homeschool families to help children thrive in the activities they specifically need and want to do. You can find Sarah online at homeschoolot.com on Instagram @homeschoolOT and in the Facebook group she moderates.