Basic Training

The Zones of Regulation
Basic Training
For Groups or Individuals Around the World
Basic Training Course Description:
(2.75 clock hours + 15 minute break)
Participants will become acquainted with the key components and lessons of The Zones of Regulation curriculum, while being provided background on why it is successful with learners and trained on how to apply it. Get the confidence to get started with implementation or a creative boost if you are already on your Zones journey. In addition to exploring critical lessons, participants will develop a solid understanding of what the four Zones of Regulation are, delve into tools to support regulation, and review practice strategies to ensure implementation with fidelity.
Participants can expect to:
Acquire knowledge of fundamentals and essential components of The Zones curriculum, including The Zones Pathway to Regulation.
Develop a solid understanding of the scope and sequence of The Zones lessons used to inform teaching and student engagement.
Delve into key lessons and tools/strategies to ensure implementation with fidelity
Audience:
Anyone interested in learning how to implement The Zones of Regulation curriculum should sign up for training, including:
Educators
Administrators
Parents, family members, and caregivers
Therapists
Counselors
Social workers
Mental health professionals
Psychologists
Educational Assistants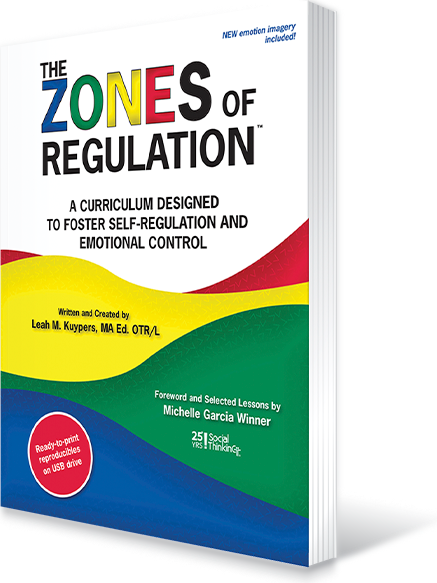 Explore The Zones of Regulation Curriculum
This training focuses on using The Zones of Regulation curriculum presented in The Zones of Regulation Curriculum (Kuypers, 2011] book. When implementing The Zones it is imperative to have access to this book for the detailed guidance, instruction, and visual materials that are contained within it. This will help to ensure the curriculum is implemented with fidelity.
The curriculum will be referred to throughout the webinar. Books must be purchased separately through Social Thinking.
Purchase Book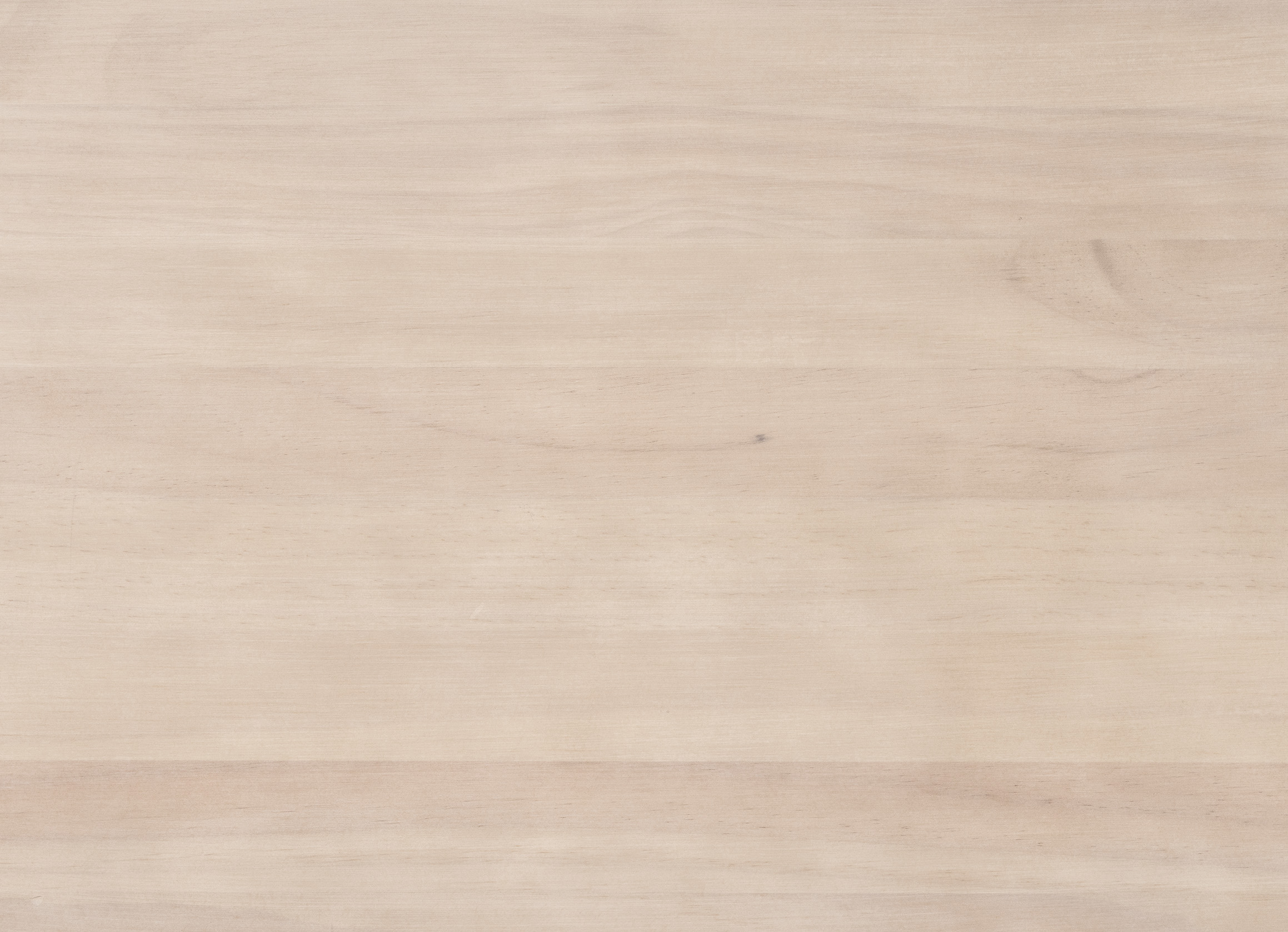 Basic Training Agenda:
Session 1 One Hour and 30 Minutes
Introduction to Self-Regulation
Introduction to the Zones of Regulation framework
Exploration of the Zones curriculum
Break 15 Minutes
Session 2 One Hour and 15 Minutes
Regulation strategies Implementation
Closing notes and questions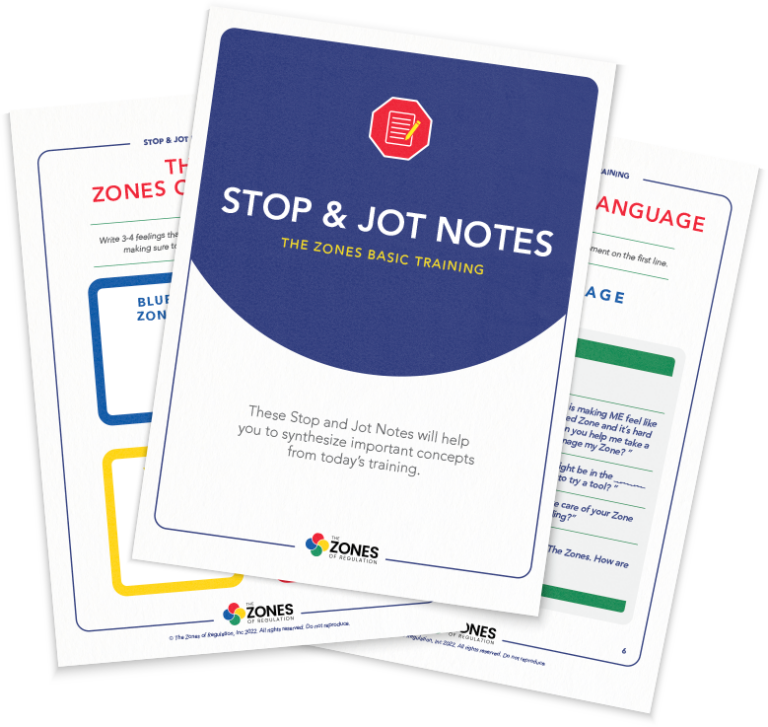 Training Schedule
Registration can be done individually or as a group. All times are in U.S. Central Time.
Times Below Are United States Central Time (UTC-5)
Click on the time converter to see if you can join us!
Training
Date
Time *
Presenter
Tuesday, 03 October, 2023
10:30 am - 1:30 pm
Friday, 27 October, 2023
1:30 pm - 4:30 pm
Tuesday, 14 November, 2023
6:00 pm - 9:00 pm
Monday, 27 November, 2023
10:00 am - 1:00 pm
Tuesday, 05 December, 2023
12:30 pm - 3:30 pm
*All times are United States Central Time
If you can't find a time that works for you, click here to request a workshop.
Can't make a scheduled session?
No problem.
You can view the recording when it works best for you without needing to join at the scheduled time!  All you have to do is register for a training within a few weeks of your preferred date and view/listen to the recording.   We offer a 30 day replay/recording with all of our trainings. This means you have 30 days after the training date you registered for to playback the webinar during a time that works for you or rewatch it to extend your knowledge.
Want to request a 'live' web-based training?
Fill out the form below if you would like to request a 'live' web-based training date and we will check our availability!  Please note that our schedule limits us to a certain number of trainings per month and we typically schedule 3-5 months in advance.
Training Request
Where:
Webinars are conducted LIVE online via Zoom Webinar Format. In this format your camera and sound will be disabled. You will be able to communicate via the 'Chat' and 'Q&A'.
A 30 day replay/recording is offered with all our trainings. This means you have 30 days after the training date you registered for to playback the webinar during a time that works for you to view to extend your knowledge.
Materials Provided:
Once registered you will receive a confirmation email with how to access the following support materials on our password protected webpage.

PPT Handouts
Breakout activity handout
Discount flyer for purchasing Zones products
Certificate of Completion (once webinar is complete)
Group Registration:
When registering as a group, you have the option to view the webinar together or as individuals remotely.
You will only enter one name/email on the registration page. The name and email address that you enter in the registration will be the lead contact for communication with your group.
If participants will be viewing remotely, as the lead contact will be responsible for sharing the information provided in the confirmation email with all participants.
Cost:
Based on number of participants
Individual rates start at $110 per participant. Groups of 13 or more qualify for group discounting. Rates for additional participants will be calculated at $600 per every 20 additional attendees.
Note: All payments are in USD
Continuing Education:
Although the webinars are not preapproved for continuing education credit, a certificate of completion is provided at the end of the webinar that often can be used for continuing education credit for many licensing boards.
Payment Options:
Credit Card
Purchase Orders/Wire Transfers.
Read More About The Zones