One of the main takeaways from the past few school years is clear- our kids and our educators' wellbeing is IMPORTANT. So let's consider how we can prepare our school buildings and classrooms to welcome our learners back this fall centering a climate of wellness and emotional support. By implementing The Zones of Regulation, we can integrate language, tools, and strategies to boost positive mental health and regulation for both youth and adults to manage the transition back to school.
WHAT IS THE ZONES OF REGULATION?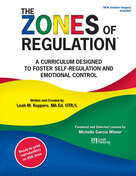 The Zones of Regulation is the original framework and curriculum (Kuypers, 2011) that develops awareness of feelings, energy and alertness levels while exploring a variety of tools and strategies for regulation, prosocial skills, self-care, and overall wellness. This curriculum provides us an easy way to think and talk about how we feel on the inside and sort these feelings into four colored Zones, all of which are expected in life. Once we understand our feelings and Zones, we can learn to use tools/strategies to manage our different Zones in order to meet goals like doing schoolwork or other tasks, managing big feelings, and healthy relationships with others. The simple, common language and visual structure of The Zones of Regulation helps make the complex skill of regulation more concrete for learners and those who support them.
READY TO IMPLEMENT THE ZONES THIS YEAR?
HERE ARE 10 WAYS TO GET STARTED:

Use The Zones of Regulation Curriculum as Your Guide – The Zones curriculum book contains systematic lessons with differentiated activities by age level and extension suggestions for generalizing learning. You may want to prioritize which lessons you want to cover in the first months of school to keep it simple. Remember, you don't always need to be teaching a novel lesson for The Zones to be working in your classroom. The magic is in the systems, reinforcement, and building student efficacy. It is easy to embed the simple language, visuals and concepts into academic lessons, discussions, and activities throughout the day.

Plan a Visual – The Zones of Regulation curriculum is a series of lessons that are meant to be taught over a course of time so don't try to do everything at once! Lesson 1 introduces the 4 Zones by creating a visual together, which is a great starting point. You can find a FREE visual here on our website. Consider how you can create a visual along with your learners that is age-appropriate, culturally and linguistically relevant, and engaging. You can do this by using photos of your students/staff in their Zones, using pictures of role models or favorite characters in their Zones, etc., the sky's the limit!

Use Your Words – A powerful component of The Zones is utilizing the language yourself. This provides modeling for your learners, creates a safe space for students to engage in this work, and shows your value for feelings over behavior. Here are some examples of phrases you can try out with colleagues and your family at home:"My heart is beating really fast and I'm having a hard time focusing. I feel like I'm in the Yellow Zone."
"I am going to take a quick break to take care of my Zone." "I'm in the Blue Zone, I'm going to rest for a moment to care for my Zone." "I need a minute to regulate my Zone before I transition to our next meeting."

Connect with Caregivers – Make a plan for communicating with caregivers/families about the work you will be doing and why it's important for their child. This can be through a letter home, a visual at your open house, newsletters, etc. Define what the 4 Zones are and how you will be using them in your classroom, making sure to emphasize that "All the Zones are OK" and that The Zones is not a behavior model/strategy.

Don't "Reinvent the Wheel" – Think of the tools and strategies you are already using and incorporate them into your Zones of Regulation instruction. Are you using mindfulness, breathing strategies, "brain breaks," movement breaks, or quiet time? These are all tools that can eventually end up in your classroom toolbox. If it's working for you and your learners, keep it going while incorporating The Zones language to connect these strategies to their social emotional learning lessons.

Find a Partner (or Two) – Look for like-minded colleagues that want to dive into this work alongside you. This will give you people to bounce ideas off of as you go and serve as accountability partners to help you stay on track. You will find yourselves sharing favorite video clips, fun art projects, literature suggestions, and regulation tools as you go.

Reconsider Your Systems – Research shows that classroom management systems such as color-coded clip charts can do more harm than good with students with significant differences in social and emotional learning. Punitive classroom management systems can also undermine your work of building your students' inner resources for regulation. Consider pairing your proactive work in The Zones of Regulation with restorative practices in order to problem-solve in a way that supports students' growth.

Pace Yourself – As you work through the lessons in The Zones of Regulation curriculum, you will incorporate more terminology and strategies such as a Zones Check-In System and an area for regulation tools. Have you heard the phrase "Go slow to go fast?" Take this approach to your work with The Zones. Many teachers/practitioners focus on key foundational lessons for the first year rather than teaching the whole curriculum, with a focus on shifting their language and classroom climate around social and emotional learning. Your best indicator for pacing will be your learners; look for their understanding and efficacy when deciding when to dig in deeper or move forward.

Celebrate Small Successes – Once you start this work, it's easy to get caught up with "what's next?". Take time to celebrate and notice the small successes like when one of your students recognizes a character's Zone during a read aloud, or when you see one of your students glancing at your class visual before naming their Zone. This includes acknowledging yourself for following through with a new approach, well done!

HAVE FUN WITH IT! – Teaching The Zones of Regulation allows you to connect with your learners on a different level, so incorporate what you love and just have fun with it! Here are some ideas: Make a music playlist for each Zone, have a dance party in each Zone, create Bitmojis of yourself in your Zones, have your class dress up in a Zone color each week for a few weeks, make picture collages or Lego representations of each Zone, make videos with your students about Zones. If you're having fun, you are synthesizing this work. You got this!
WANT TO LEARN MORE ABOUT THE ZONES OF REGULATION?